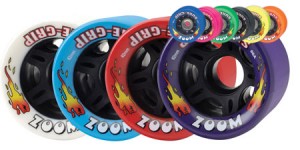 Here at Wheels Skate Center in Odenton, we love sharing roller skating with those who are new to the sport. From our before and after school programs for kids to our all-ages skate classes, our goal is to help more people enjoy the fun, socialization, and exercise of skating. One area that can intimidate new skaters is learning how to maintain your skates, especially completing tasks like changing your skate wheels. Fortunately, it's easier than you might think!
Why should I change my skate wheels?
First and foremost, let's talk about why you will need to change your wheels in the first place. If you want to skate indoors and outdoors with the same pair of skates, you'll need to get comfortable changing your wheels. Outdoor wheels are softer to absorb the impact of cracks and debris, while indoor wheels are harder and roll better on the smooth surface of the skating rink. Even if you only skate indoors, eventually you'll need to replace your wheels due to wear and tear.
What type of wheels are best for indoor roller skating?
With all of the options in skate wheels, it can be a little overwhelming to choose! Here's what you need to know to pick the right wheels for indoor skating.
Skate wheels come in different sizes and hardnesses. As we mentioned above, outdoor wheels are softer; these would be any wheels under 90A in wheel hardness.
Indoor skate wheels should have a hardness of 90A or above. The exact hardness depends on your preferences and the activities you'll be doing. For instance, jam skating calls for a wheel in the 93A to 96A range, while speed or artistic skating call for a harder wheel, around 100A.
The larger the wheel, the faster it goes. The standard for most indoor skaters is 62 mm (diameter). On the other hand, it's better to use a smaller wheel for kids who are learning to skate.
Whether you're looking for advice, skate wheels, gear or accessories for your skates, the Wheels Skate Center Pro Shop is here to help! Visit us in Odenton for in-person assistance, or contact us online to order from our supplier catalogs.