Since it's still near the beginning of the year, let's go back to basics for some Skating 101! At Wheels Skate Center we see a lot of awesome styles, but we want to talk about how to dress for the skating rink.
Lesson One: Socks!
Always wear socks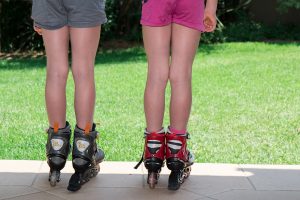 when you roller skate. For one thing, it will save a lot of wear and tear on your feet, prevent blisters, and help your skates fit better, which in turn will help prevent you from slipping. That's not all, though. The inside of your skates is already host to a lot of moisture and odor. Skipping socks intensifies that and can cause some pretty gross funk. Plus, are you renting your skates? We clean each pair, but do you really want to share skates with someone who doesn't wear socks?
Lesson Two: Dress the Part
You want to make sure that your pants or skirt aren't so long that they're going to drag the ground–this is a safety hazard, as it could cause you to trip and fall and really hurt yourself. Fitted clothes will probably serve you best, and with all that exercise you're sure to work up a sweat, so skip the sweater or wear layers!
Lesson Three: Pick Your Skates
Do you want quads (i.e. the traditional skates with two wheels in the front and two in the back) or inline skates? That depends on you! Quads are easier for balance but inlines give you better maneuverability.
Now that you've got the basics, come join us for some open skating at Wheels Skate Center!