How do your skates feel? Nothing will ruin your roller skating experience faster than uncomfortable feet! If you're sure that your skates are the right size but still having some problems, you may be able to adjust the laces to fix them. We see a lot of this at Wheels Skate Center. Check out some common skate fit problems and how to correct them!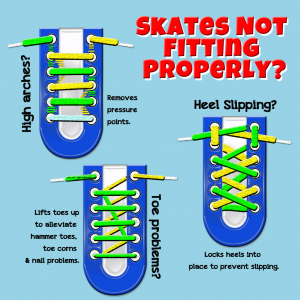 If you have high arches, you may find that the top of your skates press uncomfortably against the top of your feet. Relace your skates to alleviate this without sacrificing the stability your feet and ankles need.
If you're having trouble with your heels slipping around, double-check the fit of your skates and the thickness of your socks. If you're not sure about the size skate you need, don't guess! Ask the staff at Wheels Skate Center and let's make sure. If you're wearing the right size, consider this slightly more complex method of lacing your skates to keep your heels where they need to be.
Finally, if you have problems with your toes, toenails, etc. you'll want to try a totally different lacing pattern. It may seem a little bit crazy, but trust us–it works!
As with any fit issue, you may need to experiment to find out what works best for you. You might even find that you need to lace your skates differently on different days. Don't be afraid to think outside the box to make sure your skating time at Wheels is fun and pain-free!