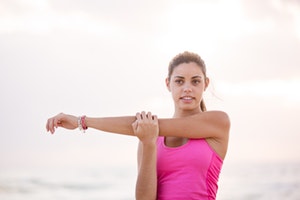 October is National Roller Skating Month, so it seems like the perfect moment to bring up one of our favorite topics: The benefits of roller skating! That's right, roller skating isn't just a fun, nostalgic activity that takes you back to your 6th grade crush's birthday party or the heady days of roller disco. (But don't let us stop you from taking a roll down memory lane.) No, roller skating is a sport, hobby, and social activity with real benefits. Read on to learn some of the many reasons to start skating, and join us at Wheels Skate Center to get in on the fun!
Reasons to Roller Skate
Roller skating is social.
There's a reason roller rinks have been drawing crowds for years. It's because roller skating is a social activity; the rink can feel like a party, but it's a party where everyone is not just dancing but also gliding around with the wind in their hair! Roller skating is a very inclusive activity that the whole family can enjoy, from little kids to seniors. In fact, many older skaters credit the positive environment of the skating rink and the fun of roller skating with helping them stay active well into their retirement years. Just take a look at this nonagenarian roller skater!
Roller skating is a workout.
Speaking of staying active, roller skating isn't just a social activity, it's also an excellent way to stay fit. The physical benefits of roller skating mostly fall into these three categories:
Cardiovascular – Skating can get your heart rate up and provide a good cardiovascular workout without the impact on your joints of other cardio activities like running, jumping rope, etc.
Muscular – If you've ever roller skated after years of not doing it, you know that roller skating uses a lot of muscles! While the fact that skating strengthens your legs is fairly obvious, you may not know that roller skating also engages your core muscles, helping to tone your abdominals and back. These core muscles are what help you adjust your balance as you skate, so even if you aren't skating hard and fast, you're still engaging all of those muscles to stay upright.
Coordination – Speaking of balance, roller skating can also help you hone your coordination skills. Skating is all about balance and agility, being able to course correct and respond to changing conditions as you increase or decrease speed, avoid other skaters, and shift your weight to perform dance moves, spins, and even jumps.
Ready to celebrate National Roller Skating Month with us at Wheels? We can't wait to welcome you to our Odenton skating rink! And don't worry if you're not confident on skates; we have skating classes that are a great starting point for anyone wanting to join in on the fun.