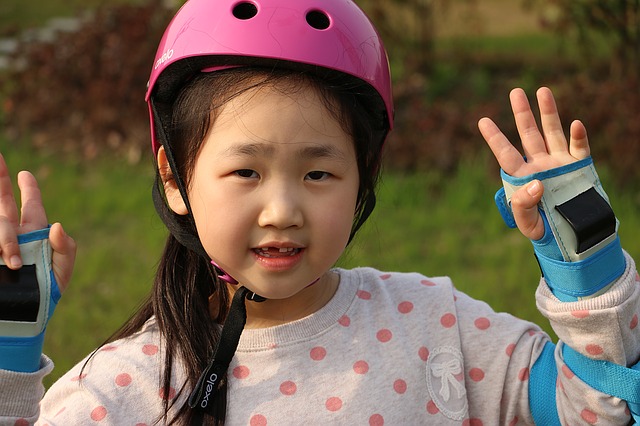 Roller skating is one of the best skills you can learn, providing a lifelong outlet for fitness, fun, and friendship. If you want to learn how to skate, or if you're working on becoming a more confident skater, congratulations, and welcome to the family! Learning to skate is so worth it, but as anyone who has ever taken their first strides on the rink can tell you, learning to skate involves falling down. It's just part of the process. Fortunately, one of the first things we teach is how to fall safely on skates!
Sure enough, there's a right way and a wrong way to fall on skates, and we're going to share the secret to falling safely with you just like we do in our roller skating classes. Ready? Steady? Go!
How to fall safely on roller skates
The best way to protect yourself from falls when learning to roller skate is to wear protective gear. When skating outdoors or speed skating you should always wear a helmet, elbow and knee pads, and wrist guards. However, beginner skaters can benefit from wearing this safety gear indoors at the skating rink as well. Some skaters even choose to wear padded pants in case they fall backwards.
Speaking of falling backwards: Don't! If at all possible, try to fall forward when losing your balance. Falling forward typically gives you more control. Try to go down on one knee if possible. If you start losing your balance and are able to control your fall into this "take a knee" posture, you may be able to avoid falling all the way down.
Of course, sometimes you may realize you're going to fall backwards and there's not a lot you can do to prevent it. But while you may still hit the ground, it doesn't have to hurt so much. If you start to fall backwards, lean to your left or right. The direction doesn't matter, you just want to take the impact of the fall on one side of your bum or the other, NOT flat in the middle. Falling flat on your bum hurts more because of the bony protuberance on your pelvis, the coccyx, aka tailbone. If you can choose one cheek to take the impact, it will be much less painful because you'll be landing on muscle, not bone.
These are just a few of the tips we share in our weekly skating classes on Tuesday nights here at Wheels Skate Center in Odenton. Classes are just $6 and include quad skate rental. Join us from 6:15 to 6:45 pm to learn forward skating and balance skills, and join us from 6:45 to 7:15 pm to learn backwards skating and turning. Doors open at 6 pm and we ask that skaters be on the floor and ready to go when class time begins.
Remember, falling is normal; picking yourself up and rolling on is the only way to get better!