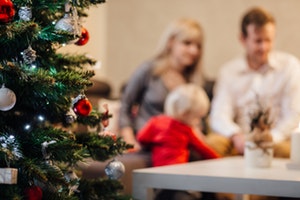 Can you believe December is already here? Time sure does fly when you're having fun, and we've had a lot of it this year at Wheels Skate Center! 
The holidays are all about spending time with the people you're closest to, so make the most of the season. There's still time to squeeze in a little more fun with family and friends to make some new memories before the new year. Check out our list of December events below and get ready for family fun in Odenton this month!
Special Events to Celebrate the Holidays
Holiday Skate Party
When: December 14th, 2019 from 10 am to 12 pm
Join us at Wheels Skate Center for a very merry holiday party! Put on your favorite tacky sweater, don't forget your Santa hat, and lace up your skates for a holly jolly good time with your favorite Christmas music. Bring your friends and family to rock around the rink with you! And if our holiday skate isn't enough for you, don't worry. We'll also be hosting our usual skating sessions from 1 pm to 4 pm and 8 pm to 11 pm.
School's Out Skates
When: December 23rd, 26th, 27th, and 30th, 2019 from 12 pm to 3 pm
Don't let the holiday break pass you by without doing something fun with your friends! Instead of wasting time watching Netflix or staring at your phone, invite your friends to meet you at Wheels for our School's Out Skate events. Admission is only $5 and includes quad skate rental.
New Year's Eve Celebration
When: December 31st, 2019 from 6 pm to 10 pm
Come party away the last night of the 2010s at our New Year's Eve Celebration! It's sure to be the best New Year's Eve party in Odenton with great music and atmosphere. Dress to impress in your blingiest sequins and glitter! Admission is only $8, so invite your favorite people and send the year off right.
More December Events in Odenton
Don't just wait around for our holiday events. While they're definitely not to be missed, we have recurring events to liven up your week.
Adult Nite – Every Tuesday* it's "adult swim" at the skating rink, with 21+ skating from 7:30 pm to 10 pm. No kids allowed, the adults are skating!
Dollar Nite – Wednesdays* are Dollar Nites from 7 pm to 9:30 pm. Come out and skate for less than the cost of your morning coffee.
Kid Fun Time – Saturdays* are for Kid Fun Time! Join us from 10 am to 12 pm for a kid-focused session with $6 admission.
*Please note that our weekly events do not occur on holidays and may be cancelled or rescheduled as needed.