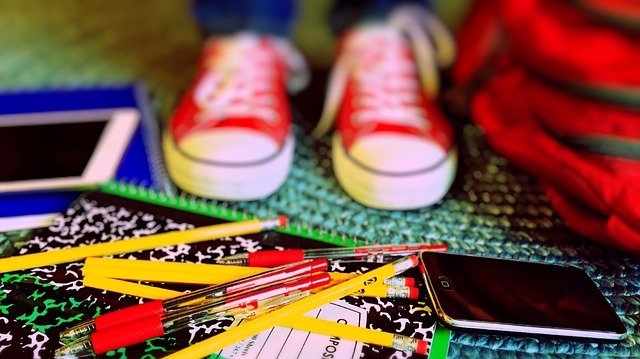 Going back to school after a summer of free time is usually a bit challenging for kids (and parents), but this year, thanks to the coronavirus pandemic, it's even more stressful than usual! Whether your kids are attending school in person, distance learning at home, or some combination of the two, there's never been a better time to check out these back to school tips and tricks.
How to Have a Better Back to School
Get on a schedule.
It's easy to let bedtimes and wake-ups shift during the summer, but moving back to a regular school year schedule will make a big difference in your family's transition back to school. Ideally, you should start moving bedtimes earlier three weeks before the first day of school, but even if you start a few days before, it's still better than the shock of having to get up early on the first day of school after a whole summer of late nights and sleeping in!
If you'll be homeschooling/distance learning with your kids for the first time, a schedule is even more important. Consider setting certain times of the day or week for solo quiet work and concentration, working together at the kitchen table on less focus-oriented tasks, meal and physical activity breaks, and of course some time for fun and socialization—whether that's an hour of screen time to play video games or a visit to Wheels for some masked, socially-distanced roller skating with friends.
Give them space.
Kids need space to store their school things and work on homework anyway, but when learning from home, it's even more crucial that they have a dedicated space for school! If each child has their own room with a desk (or can use a desk in a guest room, bonus room, etc.) that's fantastic. However, even if space is tight, it can help to create a "school zone" at the dining table or wherever possible that they can concentrate and have all of their supplies nearby. Creating a tote or bucket for each child with all of their school stuff is a great way to keep everything organized and ensure they always have what they need for lessons, without having to interrupt a working from home parent or sibling. Even just a simple row of hooks by the door for backpacks can help streamline hectic mornings.
If you need some ideas and inspiration for setting up an at-home learning space, check out these tips from interior designers and educators.
Communicate!
Good communication is more important than ever now that so many families are learning to share space for work and school. A family calendar or dry erase board with daily/weekly/monthly events and appointments can help keep everyone on the same page. You may even want to have weekly family meetings to go over upcoming events, projects, etc.
It can also help reduce the back to school stress to just talk to your kids beforehand. How are they feeling? What are they excited for? What are they nervous about? Taking the time to talk through these issues can ensure a smoother start to the year for the whole family.